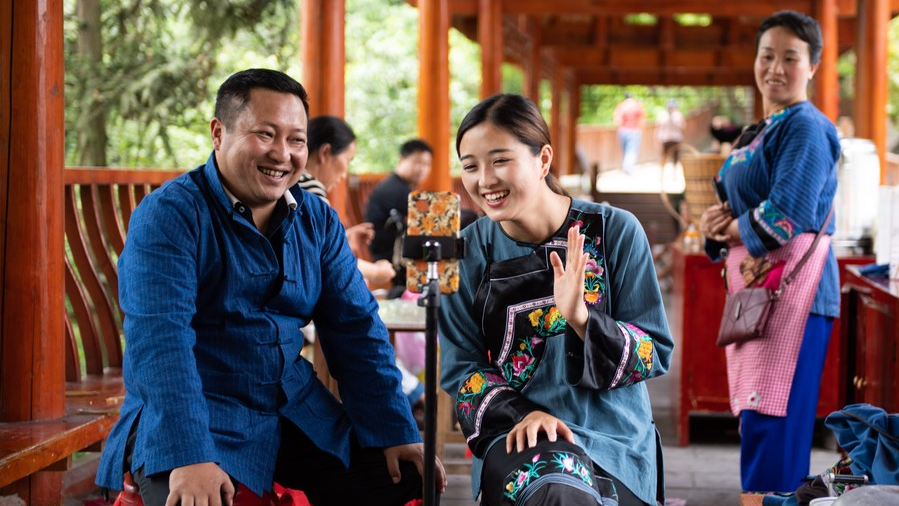 Ma Huihuang (L), leader of the poverty relief team of Shibadong Village, together with resident Shi Linjiao, promotes local products via livestreaming at Shibadong Village in Xiangxi Tujia and Miao Autonomous Prefecture, central China's Hunan Province, May 15, 2020. /Xinhua
Editor's note: Alexander Ayertey Odonkor is an economic consultant, chartered financial analyst and chartered economist with an in-depth understanding of the economic landscape of countries in Asia and Africa. The article reflects the author's opinions and not necessarily the views of CGTN.
Across all regions of the world, both developed and developing countries are currently focused on achieving the 17 United Nations Sustainable Development Goals (UN SDGs), an accomplishment that will bring peace and prosperity to people of all walks of life and protect the Earth, now and into the future.
In fact, the complexity of this trajectory paints a vivid picture of how ending poverty is critical to achieving several other UN SDGs – alleviating poverty is a daunting task for policymakers and the development community around the world, an area where only one country has achieved an outstanding record in recent years.
According to data from the World Bank, China has lifted over 800 million people out of poverty, the largest amount in human history. While this may seem like a miracle, China has been able to do it. How was this feat accomplished within a span of four decades?
To explain this remarkable achievement, it is important to cast our minds back to when China first opened up its economy. After its economic reforms in 1978, China has since recorded an average growth in gross domestic product (GDP) of 10 percent annually – from that time to present, access to services such as education, health care, transportation and other public services have also improved significantly, a commendable accomplishment of the Chinese government, which has made people-centered development its ultimate goal. However, it is worth noting that China's success in eradicating poverty is benefiting not only the country's citizenry, but the region and the world as a whole are all reaping the essential rewards.
To ascertain China's contribution to reducing poverty at the regional and global level, I examined data from reputable sources. According to the World Bank, between 1990 and 2015 global poverty reduced by an average of one percentage point per year. The largest share of this progress for the 25-year period was recorded in East Asia and Pacific where China's economic rise has aided millions of people to escape extreme poverty – the poverty rate in this region dropped from 62 percent in 1990 to less than 3 percent in 2015. Clearly, without China's rapid economic growth, which had alleviated absolute poverty considerably, this progress could not have been realized in the region.
Furthermore, in a troubling time where the COVID-19 pandemic is constraining economic activity worldwide and reversing hard-earned progress made in alleviating global poverty, China, which is the only major economy to experience significant economic growth in 2020, was also able to complete the final stage of the country's poverty eradication objective by lifting the last 98.9 million impoverished rural residents from poverty in the same year.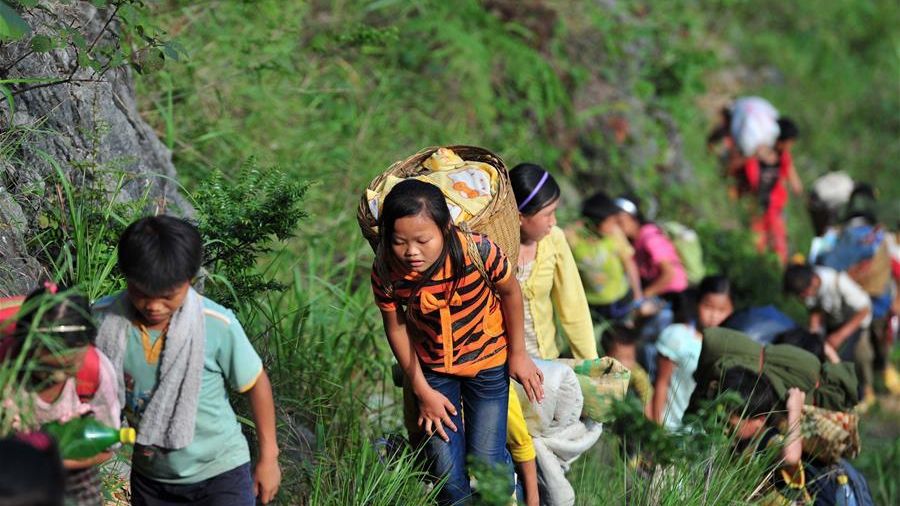 Students of Nongyong Primary School walk on a mountain trail on their return home to Nongyong Village in Bansheng Township, Dahua Yao Autonomous County, south China's Guangxi Zhuang Autonomous Region, July 4, 2012. /Xinhua
Overall, 128,000 villages and 832 impoverished counties have escaped extreme poverty. By eradicating abject poverty, China has reached the UN SDGs target of ''No Poverty'' 10 years before the stipulated time. Between 1978 and 2020, China alone accounted for more than 70 percent of the global poverty reduction, an outstanding performance that deserves commendation and should inspire the rest of the world to fight poverty.
However, in spite of China's triumph in eradicating poverty, extreme poverty is still prevalent around the world. The incidence of poverty is soaring as the disruptive impact of the COVID-19 pandemic is exacerbating inequality, weakening access to education, health care and markets for the poor and low-income households – a challenge that could be solved with efficient infrastructure which unfortunately is largely nonexistent in most countries. 
This snag could be effectively addressed by investing adequately to develop urban and rural infrastructure. Urban and rural infrastructure investments could accelerate productivity in agricultural and non-agricultural related industries, create additional job opportunities which will promote shared prosperity as it expands income and consumption of the poor and low-income households. 
Although this strategy is effective, not all countries have the funds to develop infrastructure to alleviate poverty, enhance access to opportunities for the poor and mitigate inequality. This is sufficient evidence that some countries will need unflinching support before they can achieve this goal.
Recognizing that mitigating global poverty requires concerted efforts from all countries both developed and developing, China has not limited its commitments to its citizenry. By understanding that effective global poverty reduction could only be realized via an economic growth that is inclusive, China is making significant efforts to accelerate global economic growth through the Belt and Road Initiative (BRI).
In 2013, Chinese President Xi Jinping proposed the BRI, an infrastructure development project that will enhance connectivity and cooperation on a transcontinental scale. According to the World Bank, the BRI, which is filling infrastructure gaps by building railway, airports, roads, industrial parks, pipelines, real estate, dams and creating soft infrastructure that includes free trade and investment agreements, has the tendency to propel the world's economic growth as it will expand global trade between 1.7 percent and 6.2 percent and increase the world's real income by 0.7 percent to 2.9 percent when fully completed. With these gains, the BRI will reduce global poverty significantly. 
This calls for all to support China's efforts to accelerate the world's economic growth, which could eradicate global poverty, improve access to education, healthcare and opportunities to the poor and low-income individuals and mitigate inequality, appreciating that this action is a service to humanity.         
(If you want to contribute and have specific expertise, please contact us at opinions@cgtn.com.)

97