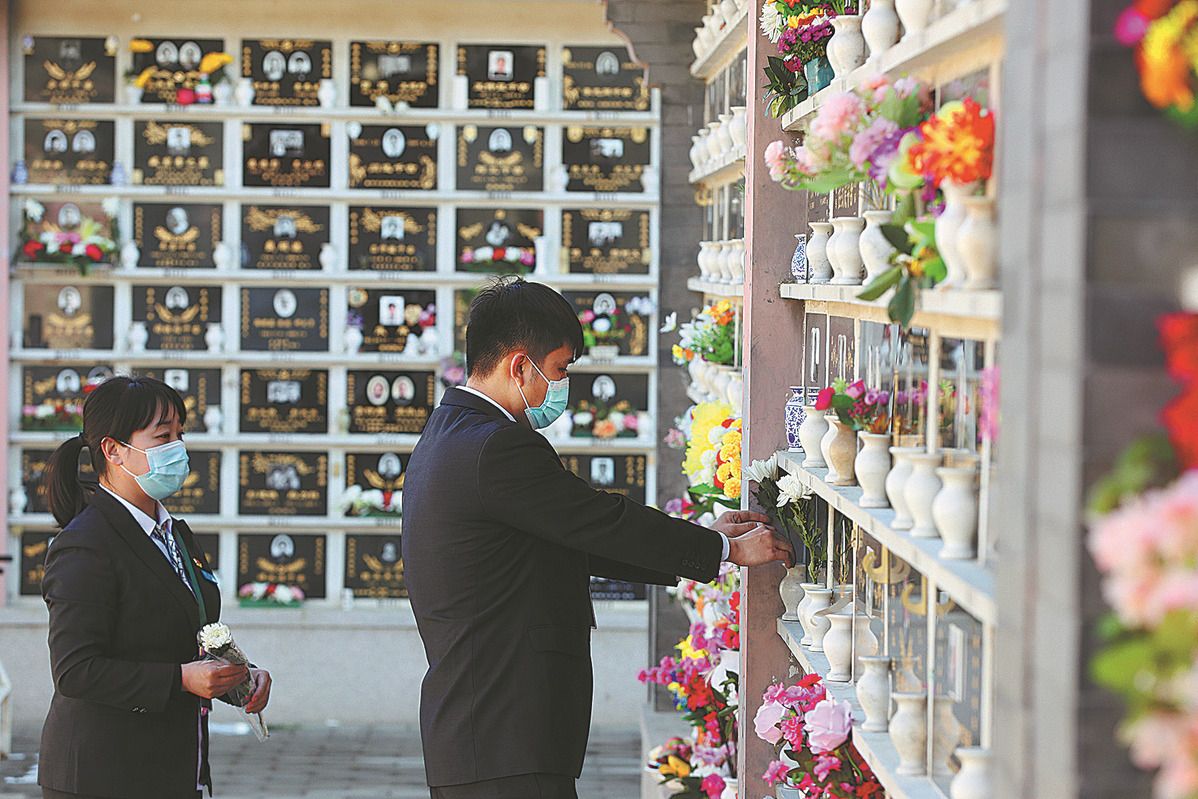 Staff members pay tribute to the deceased on behalf of their family at the Babaoshan Revolutionary Cemetery in Beijing on Friday. ZHU XINGXIN/CHINA DAILY
Local governments across China are requiring people to make appointments before visiting cemeteries to avoid crowds and encourage online memorials to rein in the risk of spreading COVID-19 during the Qingming Festival.
During Qingming Festival, also known as Tomb Sweeping Day, which falls on April 5, people usually visit ancestors' tombs as well as go for an outing in spring.
However, as the epidemic has not subsided across the nation, local governments are guiding people to adopt safer ways to send their sentiments to those who passed away.
Fushouyuan, a funeral service in Henan province's Zhengzhou, allows at most 500 people to visit each day.
Meanwhile, the provider devised online memorials to encourage people to switch to a low-carbon "tomb sweeping", said Liu Yue, the publicity manager of Fushouyuan.
People can register an online account and open up a virtual space for the dead. Family members and friends can worship at the account by posting letters to the deceased, sending short texts of their blessings, offering virtual flowers and uploading videos of the deceased as a tribute, Liu said.
People can also order a service to have Fushouyuan staff members visit their family member's tomb. During the visit, workers read letters on behalf of the family members, clean tombstones, and offer flowers and food to the dead.
"Due to the epidemic, people are more inclined to use online services, which are safer. Because they are worried that they may get infected on the way to the cemetery, and it would be even worse to infect their children and other family members," Liu said.
Before the epidemic, about a dozen households purchased the service during the whole Qingming period, most of whom were overseas and could not come to the cemetery, she said. This year, as many as 30 households bought the service in a single day, Liu added.
Elsewhere, on March 21, the Shandong provincial government released a notice saying that people should make appointments before visiting funeral homes, cemeteries and columbaria from April 1 to 10.
The notice said that funeral service providers should suspend activities where people gather, including public memorial ceremonies and burial ceremonies. Instead, online memorial activities or family memorials were encouraged.
The civil affairs authority of Hubei province said in a notice that funeral service organizations should extend their service hours and limit the number of households that enter cemeteries to 50 at one time, and their visiting time will be restricted to 30 minutes.
The Shenzhen government of Guangdong province has suspended in-person tomb sweeping activities and opened online activities to contain the virus as the city still has confirmed cases.