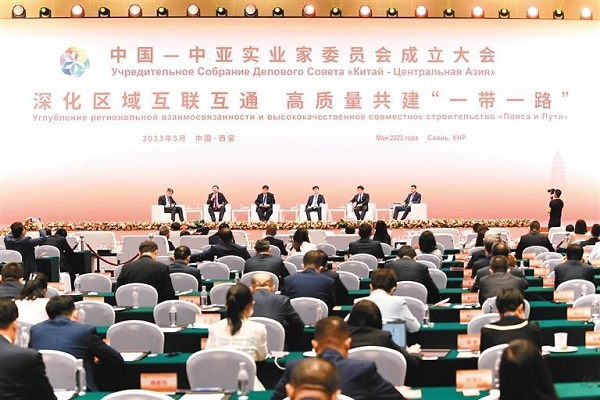 The China-Central Asia Business Council is established in Xi'an, Shaanxi province on May 19. [Photo/Xi'an Daily] 
Officials and businesspeople from China and Central Asian countries said they are upbeat about future industrial and commercial cooperation between the two sides.
The setting up of the China-Central Asia Business Council in Xi'an, Shaanxi province, on Friday heralds more win-win results in trade, agriculture, energy and other areas, they said.
Speaking at the inauguration ceremony of the council, Vice-Premier He Lifeng said China and Central Asian countries have set an example of a new type of international relations that, over the years, have come to symbolize deep strategic mutual trust, expanded pragmatic cooperation and growing friendship.
The implementation of major projects like roads, bridges, gas and oil pipelines under the framework of the Belt and Road Initiative has significantly enhanced people's well-being, he said.
"The business council, which serves as a specialized platform for business dialogues under the China-Central Asia mechanism, will pave the way and provide the institutional guarantee for deepening industrial and commercial cooperation in the region," the vice-premier said.
According to China's Ministry of Commerce, trade between China and the five Central Asian countries of Kazakhstan, Kyrgyzstan, Tajikistan, Turkmenistan and Uzbekistan last year grew about 40 percent year-on-year, hitting a record $70.2 billion, showing a strong momentum of development.
Turkmen Trade Representative Shohrat Batyrov said industry associations and businesses will be able to leverage the new business council to strengthen dialogues and take targeted measures to ensure their trade is unhindered.
"Undoubtedly, it (the business council) will provide new impetus for facilitating economic and trade cooperation among the countries, solve more problems and improve people's livelihoods," he said.
Manuchehr Gadoev, CEO of a Tajik producer of licorice roots and a member of the delegation that accompanied Tajik President Emomali Rahmon on his state visit to China, said cooperation between China and Central Asian countries has deepened in recent years and will further strengthen after the China-Central Asia Summit.
"As a businessman, I would like to find more partners here in China for cooperation and also welcome Chinese businessmen to come to Tajikistan to see the possibilities and opportunities for strengthening cooperation," he said.