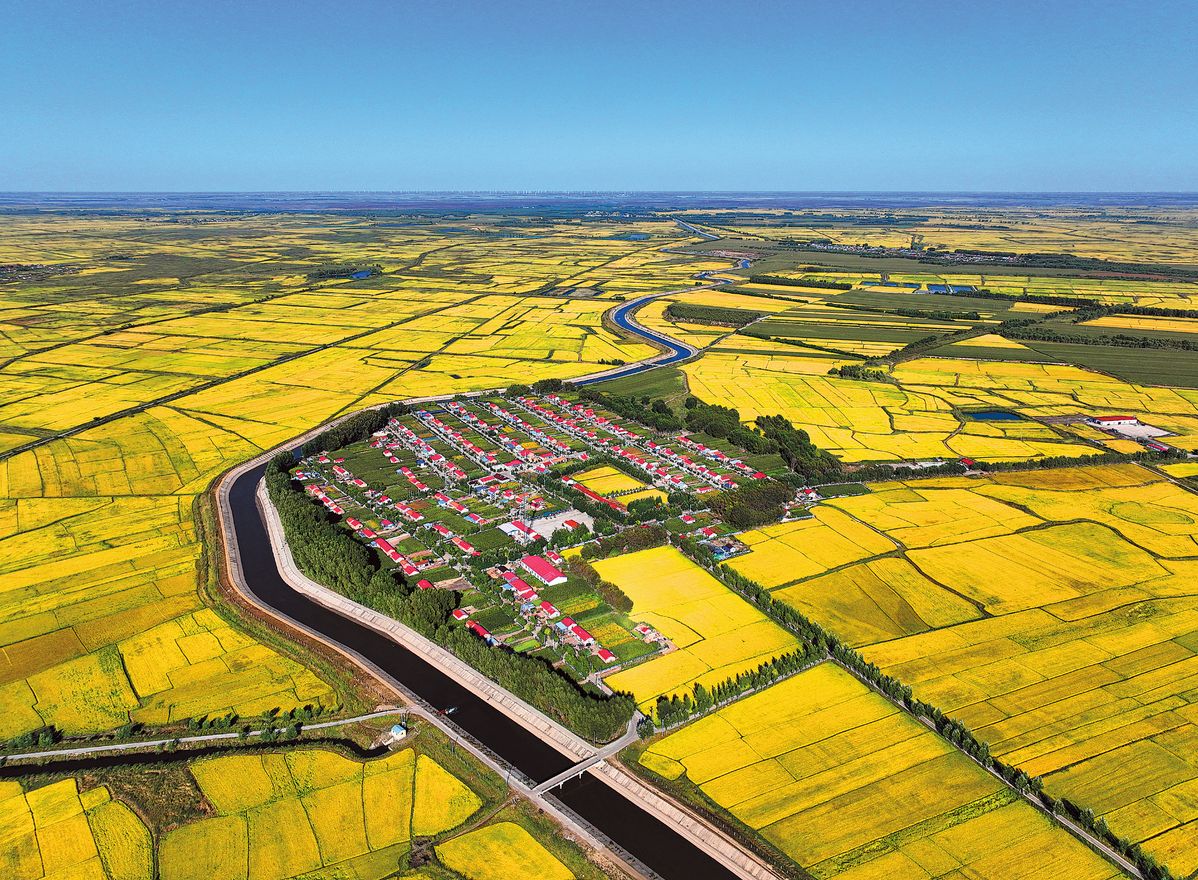 An aerial photo shows part of Wu Zaizhou's Zhaofeng Family Farm in Baicheng, Jilin province. [Photo provided to China Daily]
City in Jilin sees improvements in rice yields thanks to new varieties, better technology
Seven years ago, Wu Zaizhou took a gamble when he rented a swathe of poor-quality land for rice farming in Da'an county in Baicheng, Jilin province, and invested heavily in his agricultural venture.
"The quality of rice was not good, resulting in a loss of over 200,000 yuan ($27,300)," Wu, 45, said.
However, thanks to advice from experts and the use of new agricultural technologies and improved rice strains, Wu's Zhaofeng Family Farm harvested around 3,800 metric tons of rice from 500 hectares this year.
Located in the west of the province, Baicheng has typical saline-alkali land, which is high in soluble salts.
Farming on such soil is widely recognized as a formidable challenge, resulting in significantly lower crop yields. Da'an has 222,500 hectares of arable land and 117,386 hectares of unused land. Saline-alkali areas account for over half the unused land.
In the spring of 2016, Wu rented 300 hectares of saline-alkali land in Honggang township to start commercial planting.
"At that time, water from the Nenjiang River had been introduced into the area to help improve the quality of farmland," he said. "I invested around 3 million yuan to construct irrigation canals and ditches and to plow about one-third of the undeveloped land."
Wu planted rice seedlings on 100 hectares of his paddy fields, but only saw a yield of 1,000 kilograms per hectare.
His fortunes changed when experts from the Chinese Academy of Sciences' Northeast Institute of Geography and Agroecology in Da'an provided him with technical knowledge and saline-alkali-tolerant rice varieties.
With the guidance of the experts and through his own efforts, he successfully transformed the poor-quality land into fertile fields.
In 2021, he expanded his planting area to around 500 hectares.
Last year, he harvested 7,000 kg of rice from each hectare of land, earning over 1.7 million yuan.
"This year's yield increased to over 7,500 kg, and with good marketing, I believe I can have a better income," he said.
In recent years, Baicheng has made every effort to solve the problem of soil salinity and become a role model in pursuing green development.
It has adopted measures such as soil modification, water diversion, development of saline-alkali-tolerant crop varieties and technological improvements to transform the white salty flats into black fertile soil through a green ecological chain.
In the improved paddy fields, better quality mid-to-late maturing rice varieties can be grown, which has helped advance the "50-billion kilograms of grain production project" in the province.
"We have achieved multiple upgrades and iterations of agricultural technology," said Ma Wei, a researcher at the Rice Research Institute of the Jilin Academy of Agricultural Sciences. "We can grow rice varieties on saline-alkali land with better quality and earn higher prices."
Over the past five years, a series of saline-alkali-tolerant rice varieties and simplified cultivation techniques promoted by the institute have been applied over 765,000 hectares of saline-alkali land in western Jilin.
This has resulted in an average increase in the rice yield of 510.8 kg per hectare and an additional output value of over 1 billion yuan.
In recent decades, Baicheng has added more than 20,000 hectares of arable land. Its annual rice yield ranked first in the province for nine consecutive years.
Li Hongcheng, director of the Black Soil Protection Monitoring Center in Zhenlai county, has been promoting mechanized rice planting that saves water, along with deep-fertilization technology.
"With this technology, we can accurately fertilize near the rice roots while transplanting seedlings, thereby reducing the amount of chemical fertilizers used," Li said.
The Jilin Academy of Agricultural Sciences proposed the use of large and medium-sized greenhouses to replace small ones.
It also recommended starting seedlings and transplanting them earlier, which helped solve the problem of low rice production, making it possible to grow high-quality and high-yielding rice varieties on saline-alkali land. Baicheng is expected to achieve a rice yield of 350,000 tons this year.