The Xi'an municipal bureau of commerce and the Xi'an municipal bureau of finance recently jointly enacted policies to give grants and subsidies to guarantee the supplies of vegetables and other daily necessities during the COVID-19 pandemic prevention and control period.
Xi'an, capital of Northwest China's Shaanxi province, is currently facing a fresh pandemic outbreak.
The new policies target supermarkets, fresh food outlets, convenience stores, supply chains, wholesale markets and e-commerce platforms that provide basic daily necessities such as vegetables, rice, noodles, oil, meat and eggs during the pandemic period.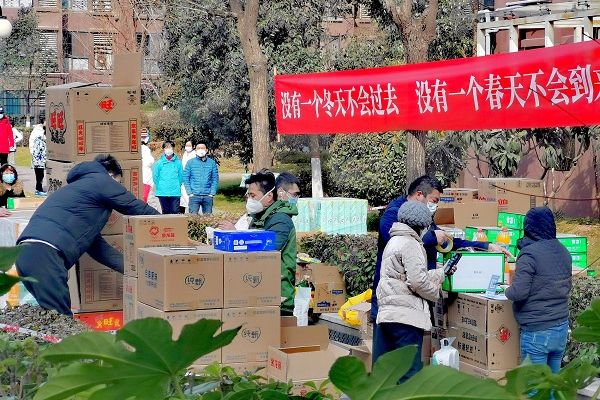 Residents queue up to buy daily necessities at a convenience service station in the Yanta district of Xi'an on Jan 10. [Photo/CFP]
The city will actively promote a materials guarantee model for ordering by residents, supermarket deliveries, centralized distribution and volunteer deliveries.
For key guaranteed supply enterprises with an average daily distribution revenue of more than 300,000 yuan ($47,140) – in the categories of vegetables, rice, noodles, oil, meat and eggs – 3 percent of the sales will be given in the form of subsidies towards employment and logistics distribution.
In addition, supermarkets, fresh food stores, convenience stores and supply companies that set up convenience service points in residential areas to provide basic daily necessities will get a subsidy of 300 yuan per day for each service station.
Distribution platform companies for community group purchases will also be subsidized. Based on actual deliveries and receipts, the subsidy will be 1 yuan per order delivered.
The Western Xinqiao Agricultural Products Logistics Center, a first-class wholesale market that has made important contributions to supply guarantees, will receive a one-time grant of 2 million yuan, while other secondary wholesale markets will each receive a one-time grant of 500,000 yuan.