"Check it out, everyone, this is the unique product of the Persian plateau - Iranian saffron." Hua Junhao (his Chinese name) from Iran used a clip to pick up the saffron in the pot bowl and showed it to the crowd.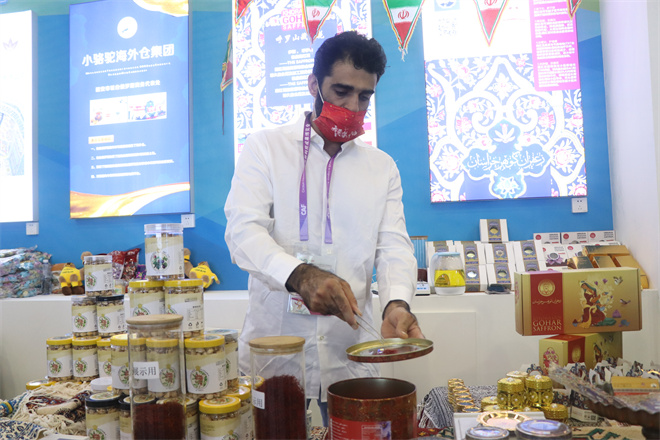 Iranian exhibitor Hua Junhao shows Iranian saffron to visitors (photo by CRI Online).
Hua Junhao said that his team represented Iran to exhibit Iranian saffron, Iranian pistachios, Iranian wild figs and handmade handicrafts at the fair this year, and each product features rich Iranian elements.
"What I have been doing is to export Iranian products to China and also to import Chinese products to Iran." Hua Junhao has been in China for more than 10 years and has been engaged in foreign trade. He believes foreign trade practitioners are "bridges" for exchanges and cooperation between Iran and China. While trying to promote Iranian local specialties, he actively takes efforts to reach trade cooperation with China and make efforts for the economic development of both sides.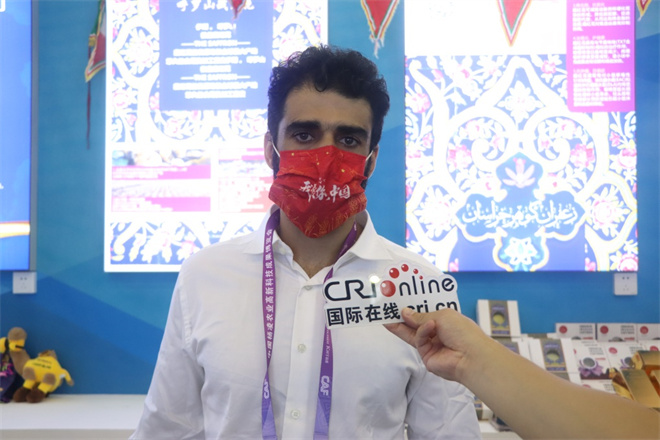 Iranian exhibitor Hua Junhao was having an interview (photo by CRI Online).
Hua Junhao shared that he firstly participated in the China Yangling Agricultural High-Tech Fair in 2019, and after three years, he came to this event again with more expectations. "I hope the publicity effect will be better this time, and I wish more Chinese people show interest in Iranian products. I have also paid attention to the China-Europe freight. If there is an opportunity, we will seize it and transport the Iranian products to farther places." Hua Junhao said.
An international exhibitor hopes that more people will favor Afghan products
Hanif Kohi, an Afghan exhibitor who travelled from Yiwu, Zhejiang Province to join the event, brought his hometown's finest.
"This is an Afghan pine nut, and many people like it!" Hanif Kohi introduced the products while showing them to the visitors. With the implementation of the Belt and Road Initiative and the deepening trade between China and Afghanistan, high-quality Afghan local specialties, including saffron and pine nuts, have entered the Chinese market.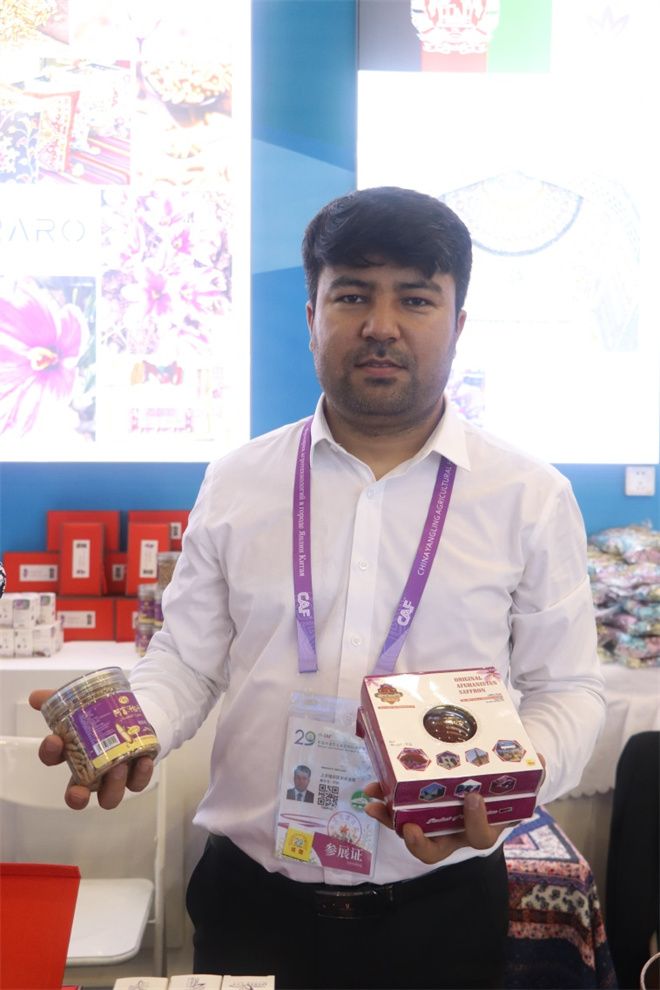 Afghan exhibitor Hanif Kohi presents Afghan pine nuts and Afghan saffron (photo by CRI Online).
Hanif Kohi said that he came to China in 2009 and started working in import and export trade in 2018. This is his first time participating in China Yangling Agricultural High-Tech Fair.
"This is my first time participating in China Yangling Agricultural High-Tech Fair, but I've been to the agricultural fair in Changchun City, so I know how good this kind of fair is." He said that the tiny pine nuts and saffron came out of Afghanistan, which bring happiness to the Afghan people and deliciousness to the Chinese people. This time, Hanif Kohi seizes the opportunity of joining the fair to bring Afghan products to more people, and he also expects that he can transform from a "first-time exhibitor" to a "coming-back exhibitor".
Let technology boost the agricultural development of Tajikistan
Early in the morning, Holikzoda and his colleagues from the Commercial Representative Office of the Embassy of the Republic of Tajikistan in China arrived at the Tajikistan exhibition area, waiting to welcome the first guests on the first day of the fair.
"We brought Tajikistan's naan, honey, finger grapes, pears, lemons, walnuts and almonds, pistachios and other products." Holikzoda introduced.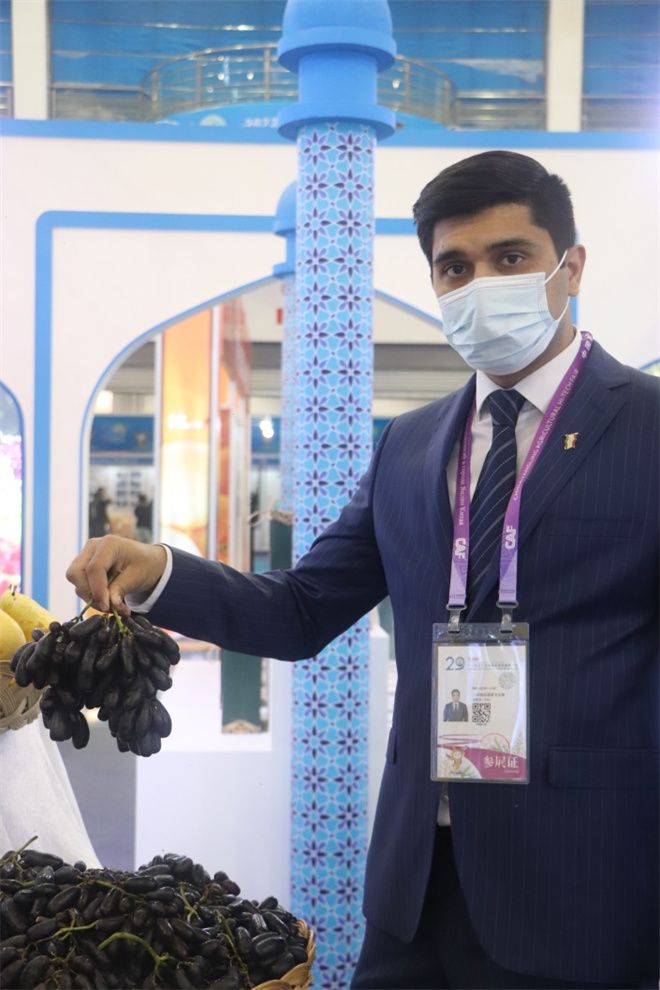 Holikzoda shows the fruits of Tajikistan (photo by CRI Online)
Speaking of the impact of the fair, Holikzoda sees it as a significant opportunity for the future development of agriculture in Tajikistan. "There are many Chinese agribusinesses at the fair and many products with advanced agricultural technology, which we lack." Holikzoda said that every time he participated in a large exhibition like this fair, he benefited a lot. In addition to the exhibition of agricultural products, there were also many exhibitions of agricultural achievements and agricultural science and technology, which enabled them to interact and exchange with some Chinese agricultural enterprises and learn from each other to promote the better development of agriculture in Tajikistan.