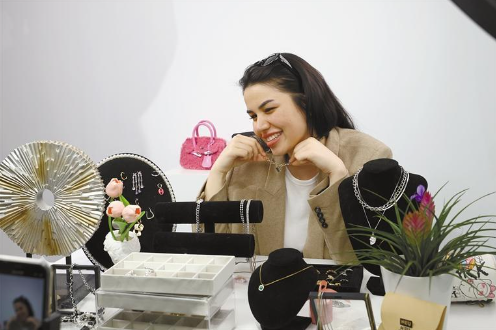 At the livestreaming room of Xi'an Weiju Fanxing E-commerce Co, a foreign host is introducing necklaces, rings and other Chinese products.
Recently, at the livestreaming room of Xi'an Weiju Fanxing E-commerce Co, which is located in the Belt and Road E-commerce Center in Xi'an International Trade and Logistics (ITL) Park, eight foreign hosts introduced and sold Chinese products such as clothing, accessories and makeup to overseas consumers.
Bring in livestreaming talents
"Some hosts are foreign students in Xi'an and some are foreign teachers, who understand Chinese culture and hold language advantages. Thus they can help bring more Chinese goods to the overseas markets." said Wang Fang, general manager of Weiju Fanxing E-commerce Co, an e-commerce platform focusing on overseas livestreaming. The company's businesses have reached Britain, the United States and other countries, helping many Chinese brands enter the global market through livestreaming.
"We have brought in more than 100 excellent livestreamers, with an average daily sales of more than 50,000 US dollars." Wang Fang said, "In the future, we hope to rely on Chang'an China-Europe freight trains to open up a broader international market, so that more high-quality Chinese goods can enter the overseas market through livestreaming e-commerce."
Cross-border e-commerce + livestreaming
Cross-border e-commerce as a new foreign trade mode is developing rapidly, with great potential and a solid driving force. Thanks to Chang'an China-Europe freight trains, Xi'an is actively building up the "cross-border e-commerce + livestreaming" model to open up a new arena for international trade.
In 2022,  30 livestreaming companies were registered in the Belt and Road E-commerce Center, building up 168 livestreaming rooms, and bringing in 800 livestreaming talents, among whom there were more than 80 foreign hosts. At the same time, ITL Park also introduced more than 2,500 e-commerce enterprises such as Alibaba, JD, Amazon, and Ebay, attracting more than 10,000 e-commerce talents and forming a comprehensive cross-border e-commerce ecology.
Cross-border cooperation
Wang Donghua, deputy director of the Administrative Committee of Xi'an Comprehensive Bonded Zone, introduced that 13 overseas warehouses have been put into use by ITL Park, and they are located in 7 countries including Germany, the Netherlands, Poland, the Czech Republic, Russia, Belarus and Kazakhstan, providing all-process logistics services for cross-border merchants.
Through cooperation with ÖBB, DB and other overseas railway companies, the Chang'an China-Europe freight trains have been expanding routes for cross-border e-commerce and launched the "Chang'an" international post trains, directly reaching more than 20 cities in Europe. In 2022, Xi'an launched a total of 198 cross-border e-commerce trains, 1.6 times the shipment volume in 2021, which also achieved a cross-border e-commerce transaction volume of 3.51 billion yuan, a year-on-year increase of 40%.
The Chang'an China-Europe freight trains that connect China and Europe have built a crucial trade channel for countries and regions along the "Belt and Road", enabling Shaanxi to continuously move towards a broader world stage.