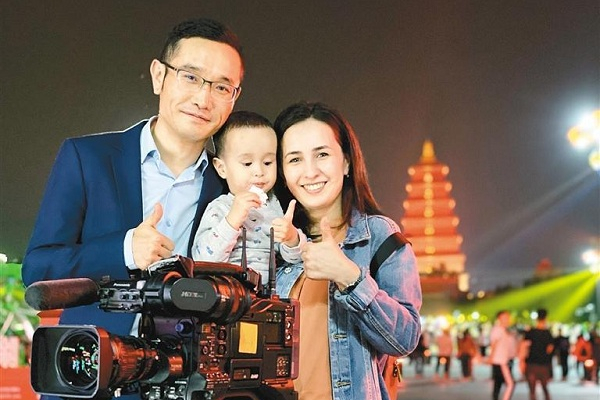 Yuan Chaohui and his family pose for a photo in front of the Big Wild Goose Pagoda in Xi'an (Photo from Xi'an Daily)
In 2007, Yuan Chaohui had just graduated from university and stayed in Xi'an for work. He met Kazakhstani student Anita by chance at a party. Both of them loved Xi'an very much and had many shared topics, bringing them closer.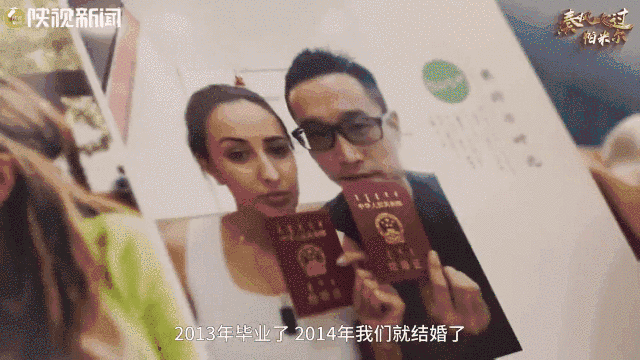 The wedding ceremony of the couple in Kazakhstan 
In 2014, Yuan Chaohui and Anita, who had been in love for 7 years, got married and held their wedding ceremony in Kazakhstan. While they were in Karaganda of Kazakhstan, Yuan Chaohui found that the local goods were quite distinctive to be introduced to China. At that time, the Belt and Road Initiative was just proposed, and he captured a business window from it.
The couple operated both physical and online stores, having Chinese goods display stores in Karaganda and Almaty. As the local customers placed orders and made the payment, they purchased and shipped the goods from China. With the further promotion of the Belt and Road Initiative, in 2015, Yuan Chaohui expanded the Chinese commodity display store in Kazakhstan and set up a Kazakhstan commodity display mall in Xi'an.
Anita feels they are very lucky to benefit from the Belt and Road Initiative. "In the past, the delivery time from Xi'an to Almaty took at least 30 days. Sometimes ladies received their dresses almost in winter though they placed the orders in summer." 
At the beginning of 2017, the couple's company began to ship goods through the Chang'an China-Europe freight train, becoming the first company in Xi'an International Port Area that transports cross-border e-commerce goods via this train. "With the Chang'an China-Europe freight train, customers can receive the goods within 10 days upon placing an order," Anita introduced.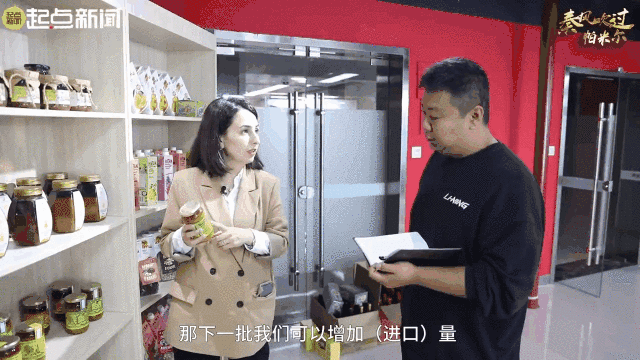 Yuan Chaohui is now responsible for expanding China's domestic procurement channels, and Anita manages and expands international teams. Their "Silk Road City" cross-border e-commerce platform covers China, Central Asian countries and Russia, with 6 overseas warehouses in Kazakhstan, Russia and Belarus, and they have more than 300 suppliers in China. In Kazakhstan alone, more than 20 locals are employed for this platform.
As a strong support for the development of cross-border e-commerce, the Chang'an China-Europe freight train now has 17 routes from Xi'an to Central Asian countries, and goods from BRI countries and 29 provinces in China are distributed in Xi'an, which largely deepens the cooperation between China and Central Asia and accelerates the flow of goods between both sides.