The "Xi'an Citywalk" series continues~ The recent temperature can not be more soothing, and let's seize this comforting moment and dig out more old alleys in Xi'an with rich stories!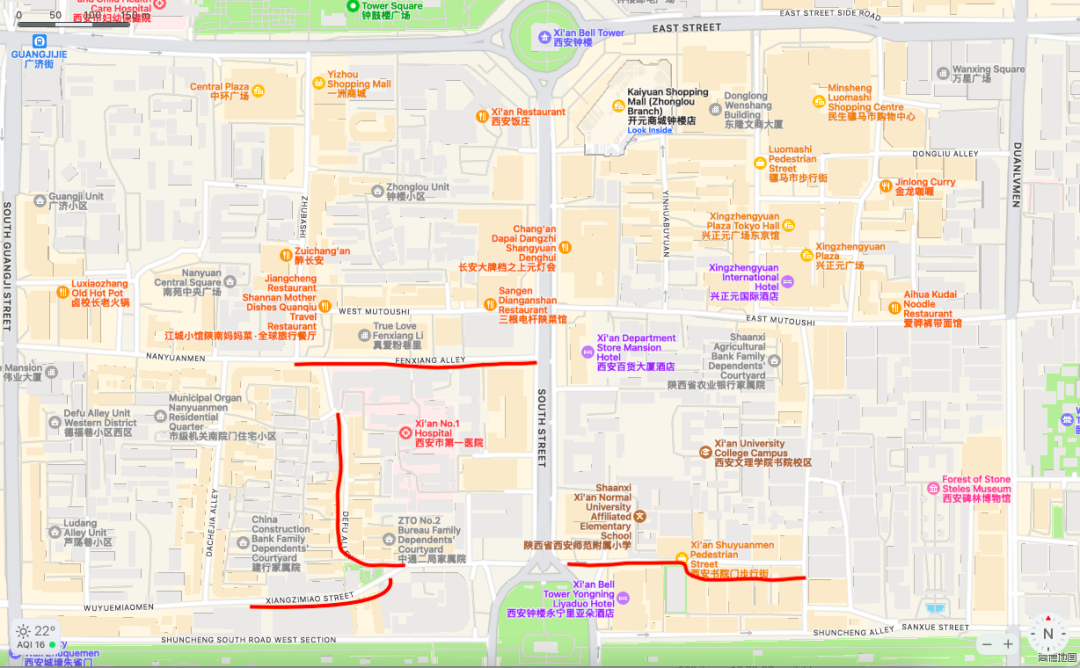 We recommended four featured alleys near the South Gate (Yongning Gate), filled with the city wall culture and time-honored vibe. They can be vibrant and tranquil at the same time. Without further ado, let's get started~
Fenxiang Alley: modern + vibrant
Fenxiang Alley starts from South Avenue in the east to the south end of Zhubashi Alley in the west, featuring history, fashion and night tourism. In the late Ming and early Qing Dynasty, the place was named after its surrounding flour mills (Fen Xiang, "Fen" means "flour"). Since then, the block has been a vibrant and bustling area.
This old alley boasts novel and niche shops, thus becoming a new social convergence for young people. The various delicacies along the street can fulfil the picky tastes of all kinds of diners, and good friends can enjoy their time here with fine drinks in hand. So, we can call this place a unique "utopia" for Xi'an people.
Shuyuanmen Alley: calligraphy + literati
Shuyuanmen Alley has the thickest atmosphere of calligraphy in Xi'an, transcending through five dynasties in history. The Guanzhong Academy in the alley has a history of more than 400 years.
Shuyuanmen Alley is on the east side of the South Gate of the Xi'an City Wall, renowned for its profound culture. A gathering place of various literati, the place sends out a strong "aroma of books".
The alley is a convergence of brush, ink, paper and ink stone, book stalls, carved wooden ornaments, ceramic vases, and celadon cups. You will be amazed by the cultural atmosphere in any shops here.
Xiangzimiao Alley: profoundness + artistry
Xiangzimiao Alley is located on the west side of the south end of South Avenue, facing the entrance of Shuyuanmen across the street. The Taichang Temple in the Tang Dynasty used to be located here. At the end of the Tang Dynasty, the area became a residential block.
This east-west alley is only a few hundred meters long, filled with antique cultural buildings and many artistic shops. Visitors can't help but stop and take photos every time they pass by.
Defuxiang Alley: Tranquility + romance
Defuxiang Alley was part of the imperial city during the Sui and Tang Dynasties, with more than 1,400 years of history.
This time-honored alley is now a gathering place for young people, also a romantic cultural alley boasting many niche shops. In the evening, the lights and sunset are intertwined, expressing the unique profoundness and romance of Xi'an.
Defuxiang Alley transforms and absorbs the diverse trending cultures, yet it still represents the slow-paced lifestyle of Xi'an folks.
Hear out the stories of old streets and check out the trending spots. During the most soothing season, the city awaits your engagement via a deep citywalk.