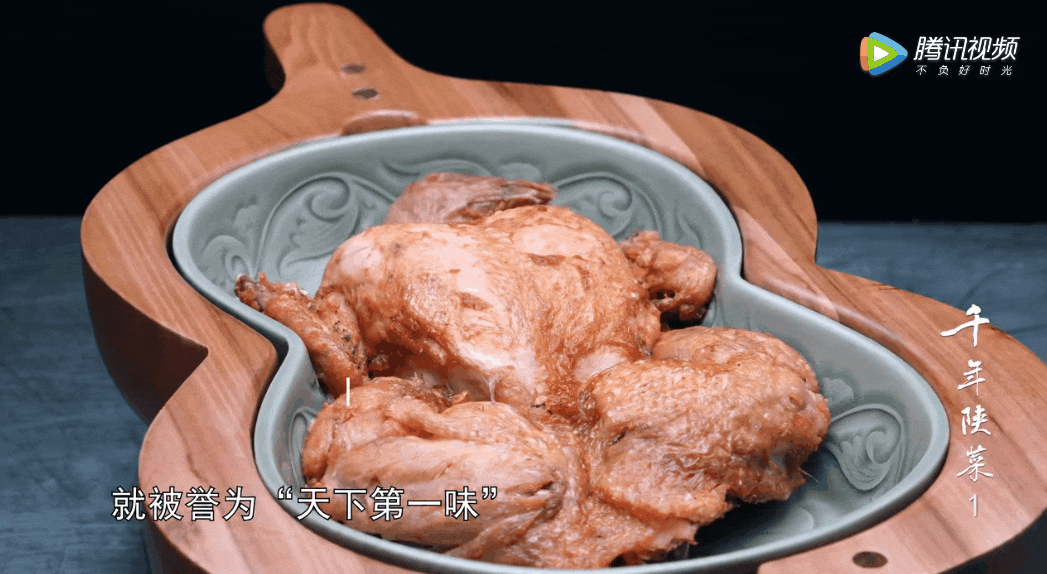 唐代就被誉为天下第一味的葫芦鸡在如今依然是一道经典且热门的陕菜,一提起来可谓是无人不知。
The Gourd Chicken, or Hu Lu Ji in Chinese, known as the "No. 1 Taste" early back to the Tang Dynasty, is still a classic and popular Shaanxi dish that everyone knows it.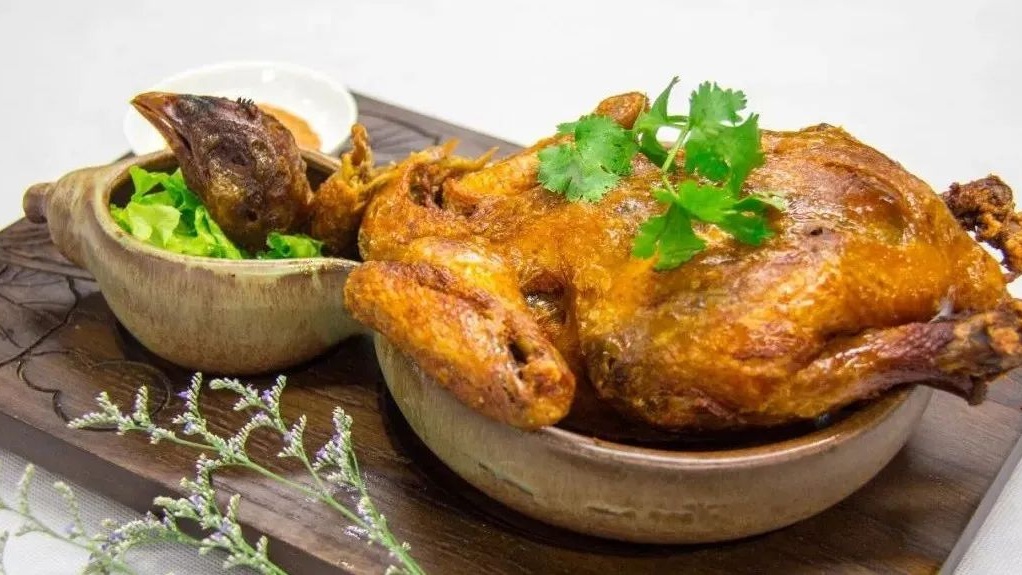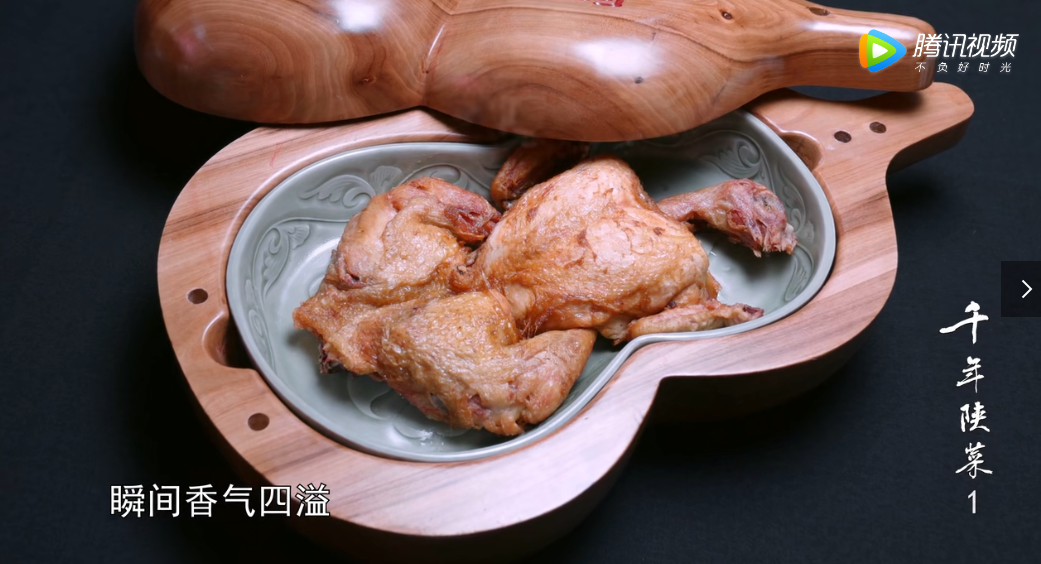 那为什么这种鸡得名葫芦鸡呢?

Why is it called the gourd chicken?
这背后有两种说法:一种说葫芦鸡是"囫囵鸡"(一整只鸡)的转音;另一种是因为这鸡经过烹饪,形似葫芦。或许这两种说法都对,因为吃的确实是这样一整只形似葫芦的鸡。
There are two versions of story behind the name. One says that the name Hu Lu Ji derives from the Chinese Hu Lun Ji, meaning a whole chicken. Another version goes that the chicken looks like a gourd after being cooked. Perhaps both statements are correct, because it is indeed such a whole gourd-shaped chicken.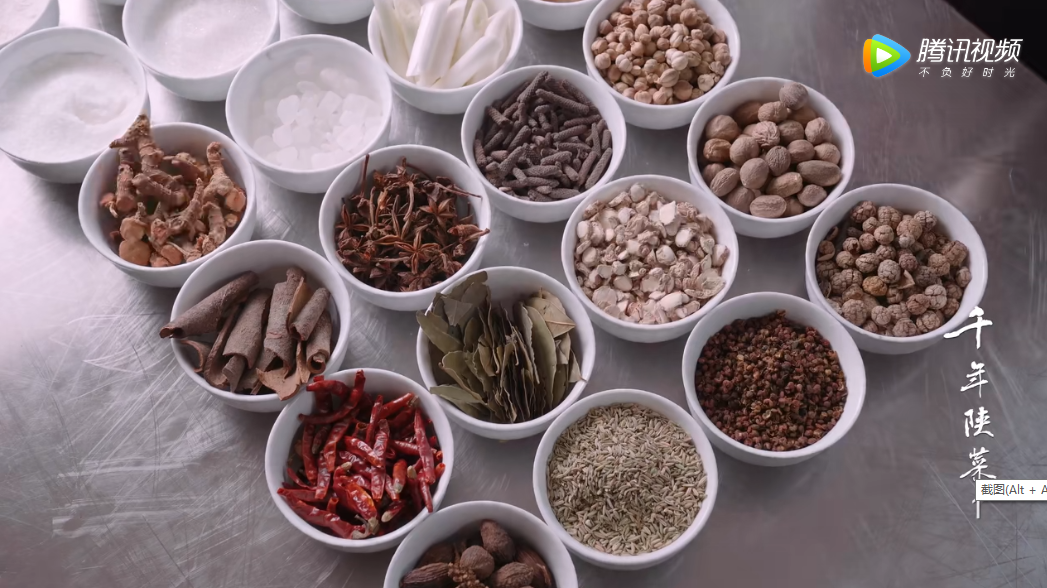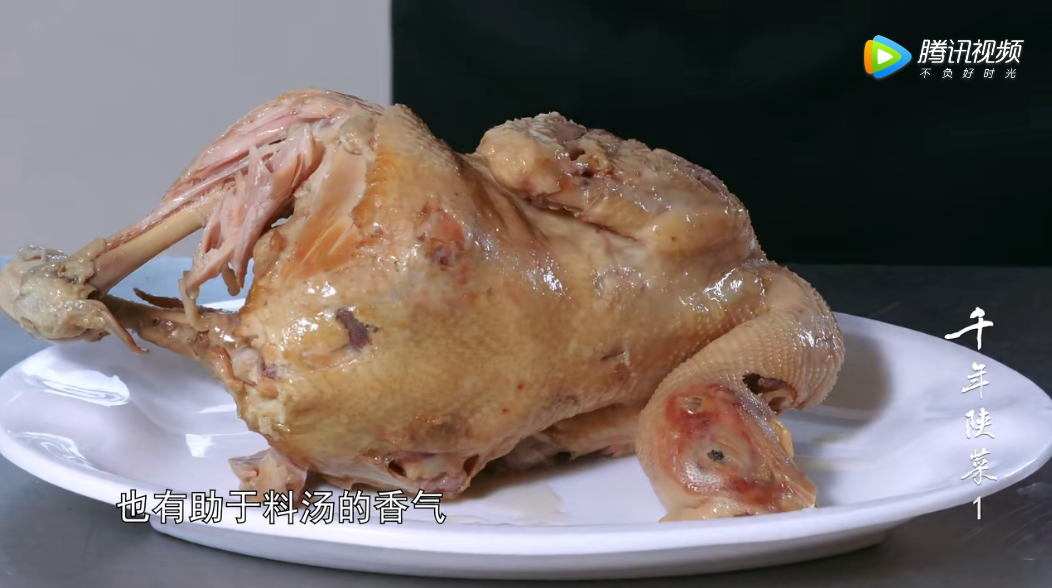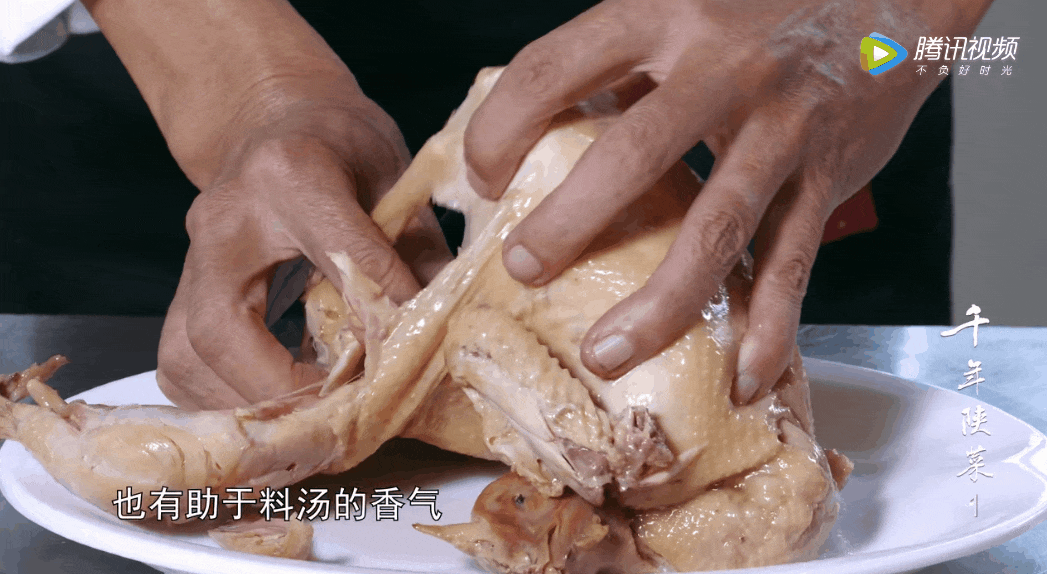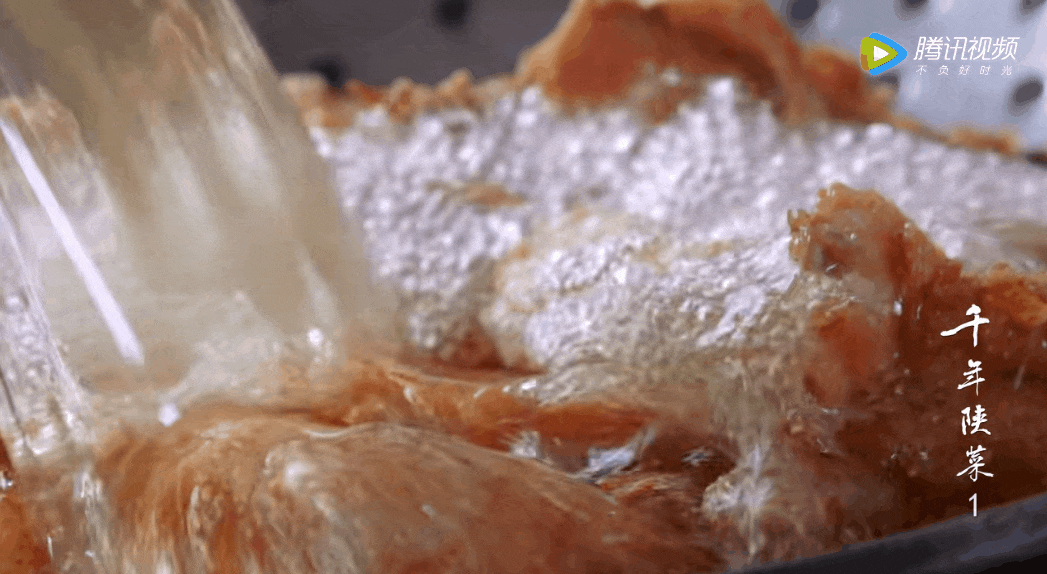 葫芦鸡的每道工序都很严格,鸡、料、汤的品质缺一不可。鸡呢用的是本地两斤左右的倭倭鸡,处理后浸入由多种香料熬成的优质高汤中蒸制。蒸完后放在油锅中炸透后立即捞出,再用沸腾的油一遍遍地浇淋鸡身,直到鸡皮金黄起酥。

The gourd chicken follows strict production process. The chicken is local Wowo chicken which is about two catties. After processing, immerse it in a quality broth made of various spices and then steam it. After that, put it in a frying pan and then remove it immediately.  The last process is pouring the chicken body over and over again with boiling oil until the chicken skin is golden and crisp.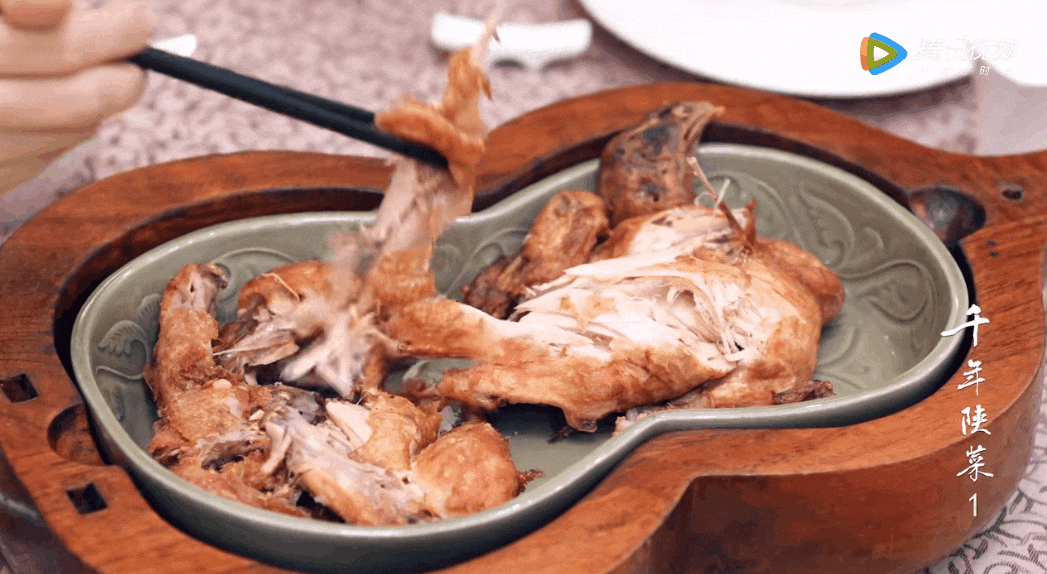 葫芦鸡最大的特点就是皮酥肉嫩,用筷子轻轻一划拉鸡肉和骨头就分离了,蘸着辣椒面或者孜然吃,味道更让人回味不止(小编都要流口水了)。
Here comes the most important quality of the gourd chicken. The skin is crispy and the meat is so tender that meat is separated from the bone with a stroke. Dip it with chili or cumin, and it will taste better.  
那么问题来了,
去哪儿才能吃到这么好吃的葫芦鸡呢?
小编这里给大家推荐几个地方↓
Where can we eat such delicious gourd chicken? 
Here are five restaurants I strongly recommend.
01
竹间葫芦鸡
Bamboo gourd chicken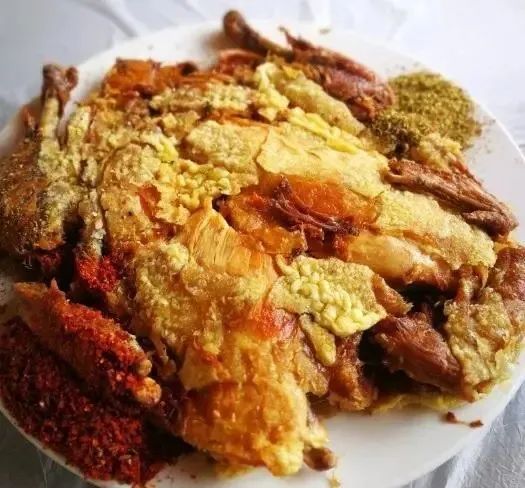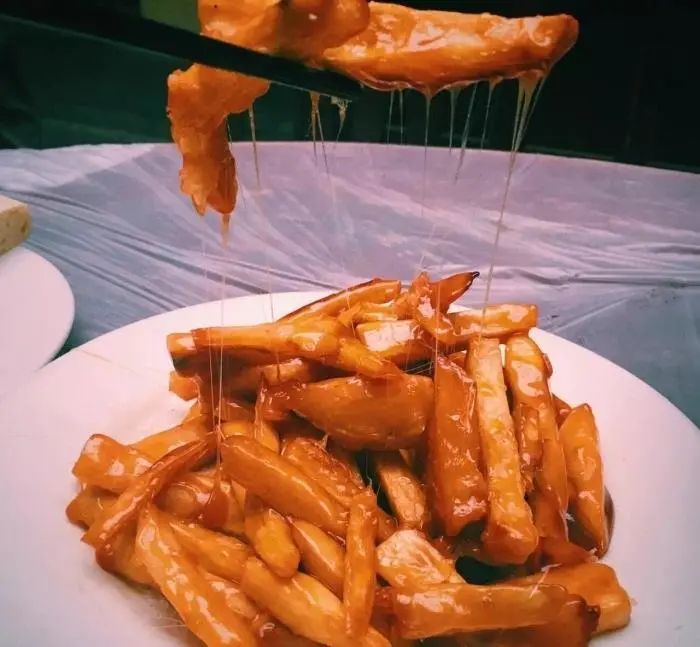 排名第一的,当然是这竹间葫芦鸡了,虽然离市区比较远,但是很多人慕名而来,餐馆前的院子里经常停满了车。

The first one is of course the Bamboo Gourd chicken. Although it is far from the downtown, many people come here especially for the classic chicken, and the yard in front of the restaurant is often crowded with cars.
地址:西安市长安区郭杜西安外国语大学长安校区南门旁
推荐:葫芦鸡、拔丝红薯、烩三鲜
人均:50元左右
Address: Guodu, Chang'an District, Xi'an City (next to the South Gate of Xi'an University of Foreign Studies Chang'an Campus)
Recommendation: 
Gourd chicken/húlu jī, 
Candied sweet potato/básī hóngshǔ, 
Braised three dishes/huì sān xiān
Consumption: about 50 yuan/person
02
窄巷子陕菜馆
Zhaixiangzi Shaanxi Cuisine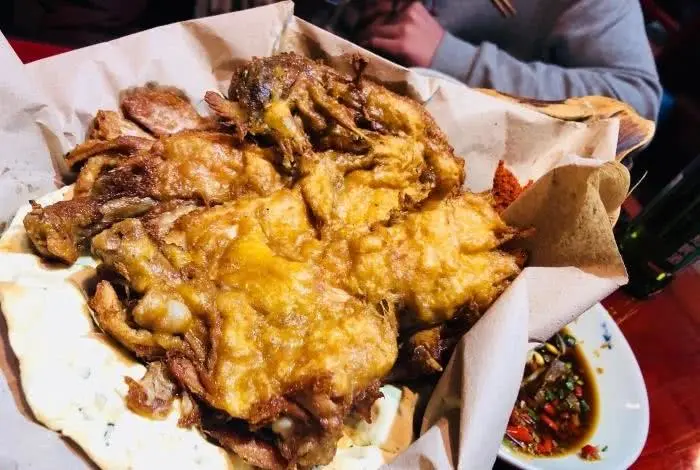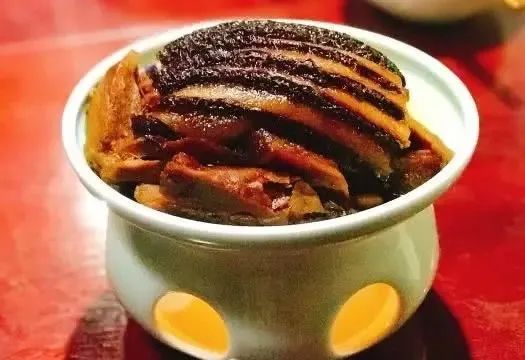 注意是窄巷子,而不是成都的宽窄巷子。葫芦鸡是这里的招牌菜,造型独特,味道鲜美,外酥里嫩,绝对不会让你失望的!

Note that it is the Zhai Xiang Zi, not the Kuan Zhai Xiang Zi in Chengdu city. Gourd chicken is the signature dish here. It is unique in shape, delicious in taste, with crispy outside skin and tender meat inside. You will definitely like it!
地址:西安市南大街粉巷
推荐:葫芦鸡、条子肉、山楂鲜山药
人均:65元左右
Address: Fenxiang, South Street, Xi'an
Recommendation: 
Gourd chicken/Húlu jī,
Strip meat/Tiáozi ròu, 
Hawthorn and yam/Shānzhā Xiān Shānyào

Consumption: about 65 yuan/person
03长安大排档/Chang'an Food Stall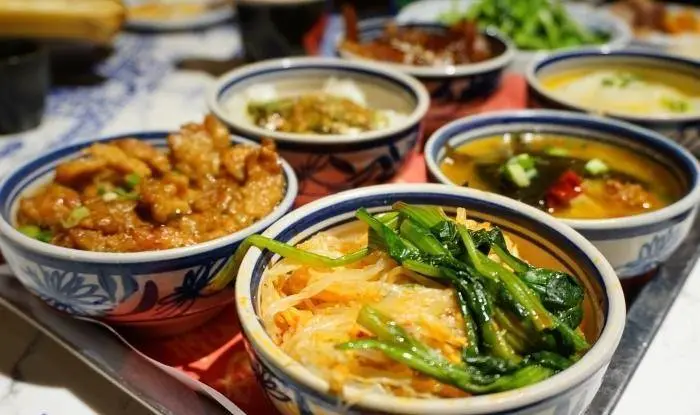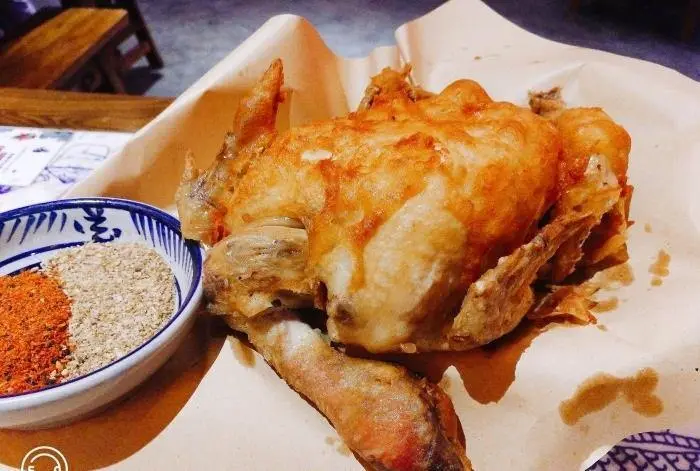 每个城市的大排档,里面都包含着这个城市最独特的美食。长安大排档也不例外!在这家长安大排档,不仅能吃到各色西安美食,还能看到皮影戏、秦腔等民俗表演。
The food stalls in each city contain the most unique dishes in the city. Chang'an food stalls are no exception. In this Chang'an Food Stall, you can not only eat all kinds of Xi'an delicacies, but also see folk performances such as shadow puppets and Shaanxi Opera.
地址:环城东路朝阳门外益田假日世界西
推荐:长安葫芦鸡、豆皮涮牛肚、关中六小碗
人均:70元左右
Address: West of Yitian Holiday World, Chaoyangmen, Huancheng East Road
Recommendations: 
Chang'an Gourd Chicken/ Cháng'ān húlu jī, 
Steamed Tripe with Bean Curd/dòu pí shuàn niú dǔ, 
Guanzhong Six Small Bowls/guānzhōng liù xiǎo wǎn
Consumption: about 70 yuan/person
04遇见长安/Meet Chang'an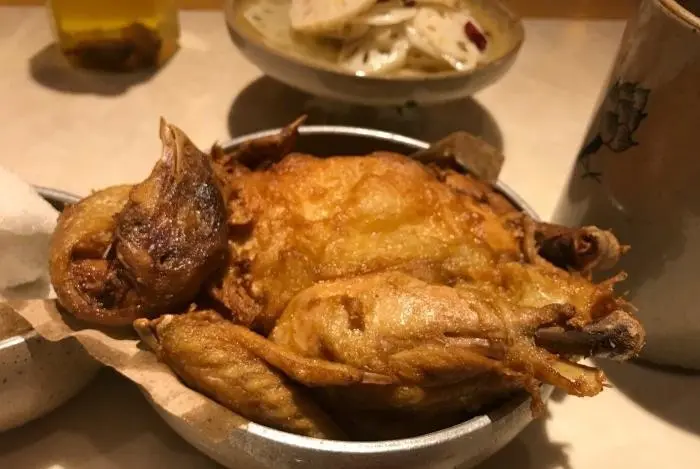 这虽不是著名的陕菜馆子,但并不影响店里葫芦鸡的出色!高新区的小伙伴们可以去试一试哦~
Although this is not a famous Shaanxi restaurant, the gourd chicken in the restaurant is great. If you are in the Gaoxin District, give it a try~
地址:高新区高新信息大道阳光天地4楼
推荐:遇见长安葫芦鸡、长安大锅贴、红柳烤肉
人均:60元左右
Address: 4th Floor, Sunshine World, Gaoxin Information Avenue, Gaoxin District
Recommendation: 
Gourd Chicken/Yùjiàn cháng'ān húlu jī, 
Chang'an Fried Dumplings/cháng'ān dà guōtiē, 
Red Willow Roast/hóngliǔ kǎoròu
Consumption: about 60 yuan/person
05
江城小馆陕南妈妈菜
Jiangchengxiaoguan· Home-made South Shaanxi Cruisine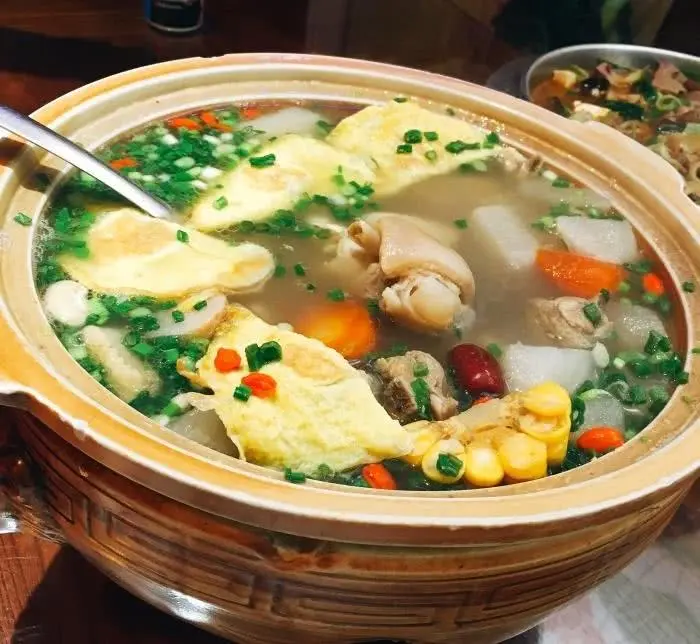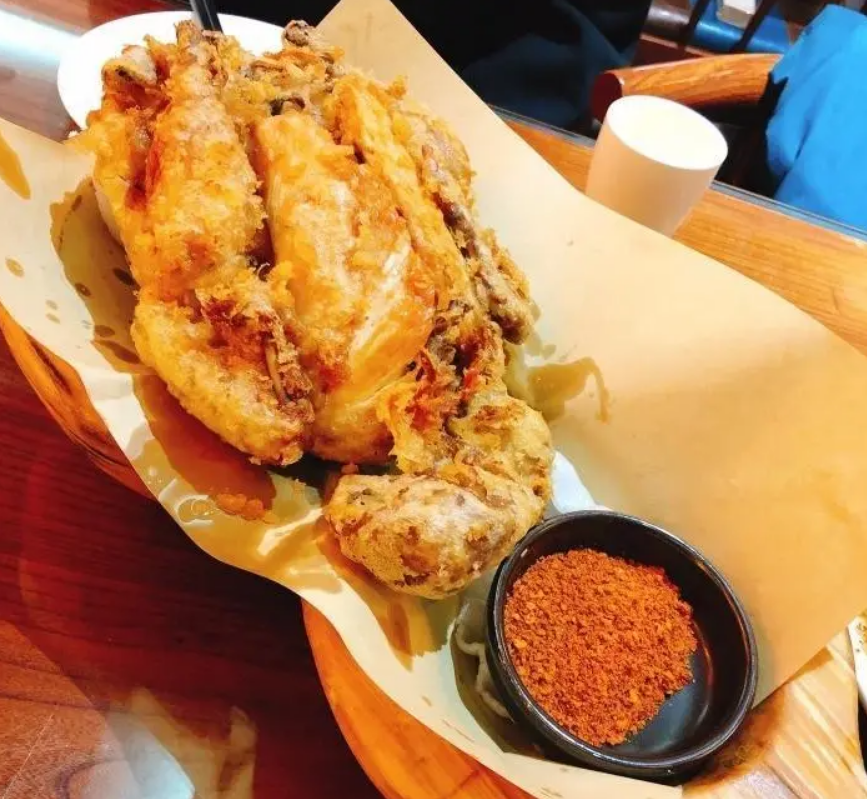 这是一家来自汉中的连锁陕菜馆,目前在西安已经有三家分店了,不妨去试试地道的陕南菜。

This is a chain of Shaanxi restaurants from Hanzhong city. There are currently three stores in Xi'an. You might as well try the authentic southern Shaanxi cuisine.
地址一:雁塔区小寨东路赛格国际购物中心6楼(地铁2号线小寨站)
地址二:碑林区西木头市51号联邦中航酒店1楼(地铁2号线钟楼站)
地址三:碑林区五味十字南院门食尚南院二楼(地铁2号线钟楼站)
推荐:秦派葫芦鸡、紫阳蒸盆子、汉水酸菜江团鱼
人均:80元左右
Address 1: 6th Floor, Saga International Shopping Center, Xiaozhai East Road, Yanta District (Xiaozhai Station of Metro Line 2)
Address 2: First Floor, Atravise Executive Hotel, No.51, Ximutoushi, Beilin District (Bell Tower Station of Metro Line 2 )
Address 3:  Second Floor, Shishang South Yard, Nanyuan Gate, Wuweishizi Street, Beilin District (Bell Tower Station of Metro Line 2 )
Recommendations: 
Qinpai Gourd Chicken/ Qín pài húlu jī, 
Ziyang Steamed Pots/ zǐyáng zhēng pénzi, 
Hanshui Pickled Fish/hàn shuǐ suāncài jiāng tuán
Consumption: about 80 yuan/person
温馨提示:葫芦鸡端上来之后要尽快"消灭"掉,
这样才能感受到葫芦鸡外酥里嫩的独特口感!
Tip: eat the gourd chicken as soon as possible after it is served, 
so that you can feel the unique taste!