From June 7th to 11th, the 19th China (Shenzhen) International Cultural Industries Fair will be held in Shenzhen. After over two months of organization and preparation, almost 100 exhibitors and 1000 exhibits will be unveiled in the Shaanxi Pavilion.
The Shaanxi Pavilion features the market scene in the Tang Dynasty, aiming to build up a space where visitors can dive into the charm of the Tang Dynasty via comprehensive interactive experiences. There are three exhibiting areas set up in the pavilion, as well as three consumption areas.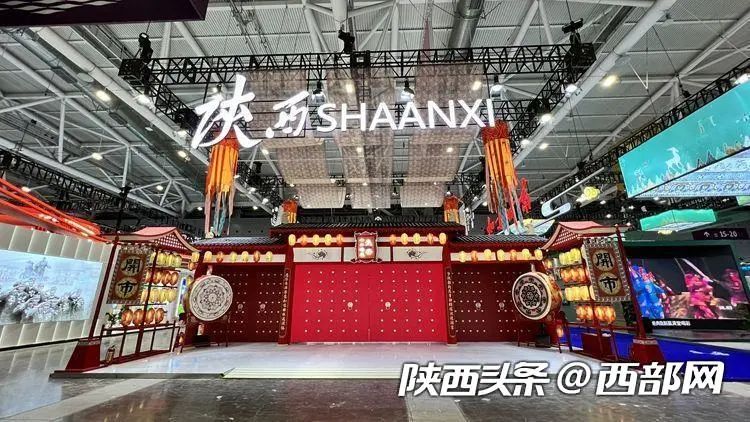 At the main entrance of Shaanxi Pavilion, the scenes "market opening" and "market closing" are vividly reproduced via the LED screens, and corresponding performances will be held from time to time. The setting brings the ancient market scene to the real world, enabling the visitors to immerse in the "Tang vibe" fully.
Various Shaanxi exhibits are showcased at Shaanxi Pavilion, centering around intangible cultural heritage, local cuisine and creative cultural products. These fine objects together narrate the splendid stories of Shaanxi culture, enabling the visitors to develop a 360-degree understanding of Shaanxi. 
Terracotta Warriors, Xianyang Fu Tea, Yaozhou Porcelain, and Tang Style are the four featured units of the collectively displayed creative cultural products, which are exhibited in particular areas.
China (Shenzhen) International Cultural Industries Fair
China (Shenzhen) International Cultural Industries Fair (ICIF) is the only national-level, internationalized and comprehensive cultural fair in China, and it is approved by UFI (the Global Association of the Exhibition Industry). 
Since its establishment in Shenzhen in 2004, ICIF has always adhered to innovation. It focuses on exhibition and exchange, committed to building a trading platform for the products and projects of China's cultural industry, driving the development of China's cultural industry and vigorously advancing the globalization of Chinese cultural products. 
Every year, ICIF attracts more than 100,000 cultural creative exhibits from home and abroad and more than 4,000 cultural investment and financing projects, displayed and traded on site. The number of countries and regions visiting, exhibiting and purchasing has increased from around 10 in the first session to 108 in the 18th session.