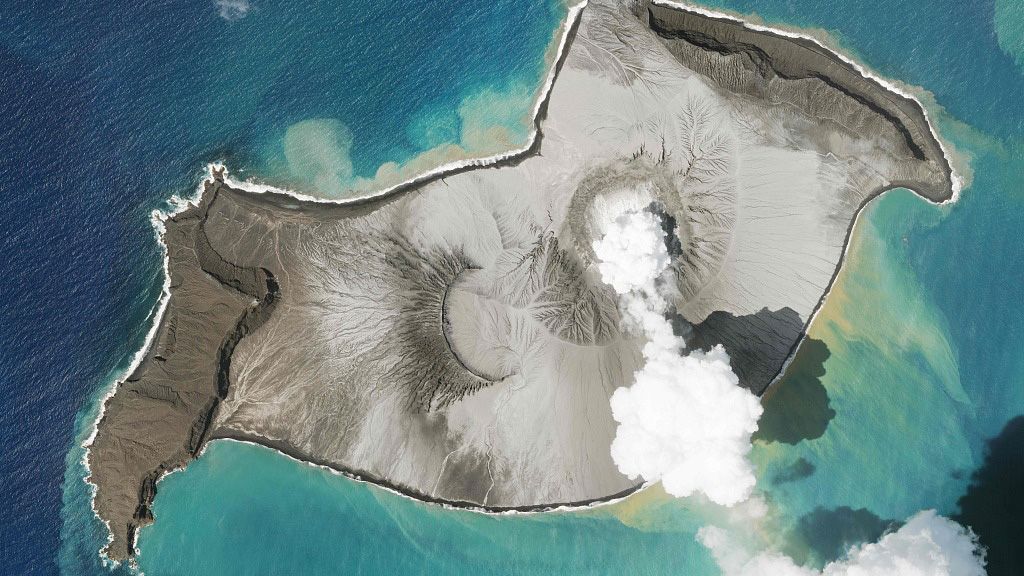 The United Nations (UN) and many countries have expressed their readiness to help Tonga recover from disastrous tsunamis caused by a rarely huge eruption of a volcano nearby, which cut almost all communications between the country and the outside world.
There are no official reports of injuries or deaths in Tonga yet as communications are limited and contact has not been established with outlying coastal areas beyond the capital Nuku'alofa and closer to the volcano, Jacinda Ardern, the prime minister of New Zealand, told a news conference on Sunday.
There is no immediate report of injuries or deaths of Chinese people in Tonga either, according to the Chinese embassy to Tonga.
Tonga, an island nation with around 105,000 residents, lies 2,383 kilometers northeast of New Zealand.
According to the Tonga Geological Services, a massive underwater volcano erupted just before sunset on Friday with plumes reaching more than 19 kilometers above sea level. A cloud of ash and steam reached about 241 km across, an event captured by satellite images that have been shared by various meteorological agencies.
Tsunami threat passed
According to RNZ, New Zealand's public broadcaster, the beach and marine threat has now passed for all areas. 
Also, the threat of further tsunamis for other Pacific nations like Australia, New Zealand, Japan and the U.S. has also passed, the Pacific Tsunami Warning Center said.
The threat has receded but coastal areas should remain alert for strong or unusual currents, the center added.
"Nuku'alofa is covered in thick plumes of volcanic dust but otherwise conditions are calm and stable," Ardern said.
"There are parts of Tonga where we just don't know yet ... we just haven't established communication," she said.
Satellite images captured the volcanic eruption on Saturday as the explosion sent plumes of smoke into the air and about 12 miles above sea level. The sky over Tonga was darkened by the ash.
Internet and phone lines went down at about 6:40 p.m. local time on Saturday, leaving the residents on the islands virtually uncontactable.
Ardern said the main undersea communications cable has been impacted, likely due to loss of power.
Power was being restored in some areas on the islands and local mobile phones were slowly starting to work, she added.
"Shops along the coast have been damaged and a significant cleanup will be needed," she said.
The world is ready to help
UN Secretary-General Antonio Guterres on Saturday expressed his deep concern after reports of a tsunami and ash affecting Tonga following the eruption of an undersea volcano near the Pacific nation.
"The United Nations offices in the Pacific are closely monitoring the situation and are on standby to provide support if requested. The secretary-general is grateful to countries that have already offered their support," Farhan Haq, deputy spokesman for the secretary-general, said in a statement.
Ardern said her government will provide 500,000 New Zealand dollars ($340,000) of assistance to Tonga.
Australia said it will send a P8 surveillance aircraft to Tonga on Monday to assess damage to critical infrastructure such as roads, ports and power lines, which will determine the next phase of the response effort.
In the United States, Secretary of State Antony Blinken said the country stands prepared to provide support.
(With input from Reuters)