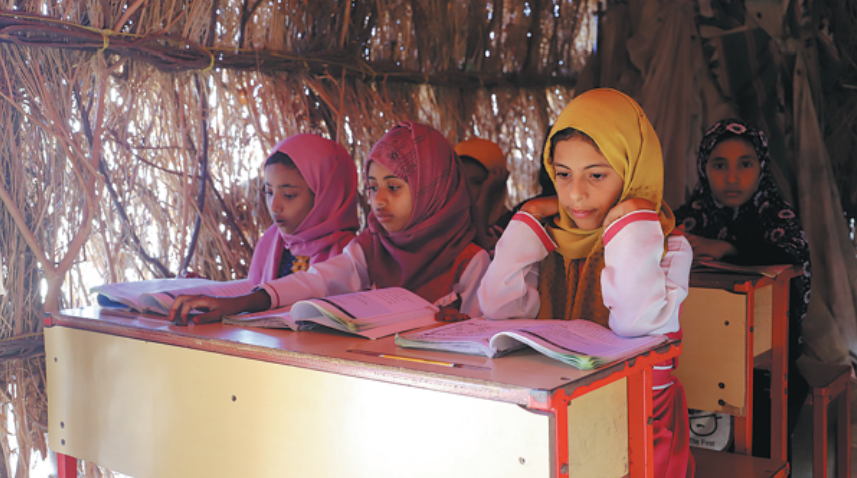 Children attend a class in Hajjah, Yemen, on Feb 23. XINHUA
The humanitarian situation in war-torn Yemen is in danger of being forgotten by the world after a United Nations funds drive managed to raise only $1.2 billion, well short of its target of $4.3 billion, nongovernmental organizations say.
Reaching funding targets has always been challenging, they said, but the difference now is that the Ukraine-Russia conflict has driven up fuel and food prices. Relief efforts have also been diverted to the recent twin earthquakes in Turkiye and Syria, thus putting about 20 million Yemenis at risk this year.
The humanitarian organization Norwegian Refugee Council railed against the Yemeni funding outcome by Feb 27, saying it was "woefully inadequate" and that it suggested "some humans are less valuable than others".
The UN estimates that 21.6 million people in Yemen, nearly three-quarters of its population, will require humanitarian assistance and protection this year.
Karl Schembri, regional media adviser for East Africa and Yemen for the Norwegian group, said that the "huge outpour of solidarity" — be it with the people of Ukraine, Turkiye or Syria — should "never happen at the expense of millions of Yemenis" who have been suffering for the last eight years "in this completely human-made situation".
Some Western and Arab countries that have donated to Yemen have had a "huge say" in the Yemeni war, he said, "either in the bombs they are dropping or in the weapons they are selling".
Civil war in Yemen broke out in 2014 after Houthi rebels seized the capital, Sanaa, eventually leading to the collapse of the internationally recognized government of President Abd-Rabbu Mansour Hadi.
Schembri said countries involved in the conflict "have, particularly, an extra responsibility in making sure" the disaster is mitigated for these millions of poor civilians.
In December, UN Secretary-General Antonio Guterres said a record $51.5 billion would be needed to help 230 million of the world's most vulnerable people in nearly 70 countries this year.
This covered countries that had been hit by lethal droughts and floods, from Pakistan to the Horn of Africa, he said. In addition, the conflict in Ukraine has "turned a part of Europe into a battlefield".
Hussein Alsuhayli, chairman of the Tamdeen Youth Foundation in Yemen's capital Sanaa, said the crisis "has become very long" and that the failure to reach funding targets may force agencies and organizations in Yemen to reduce the number of assisted people as well.
"Millions of Yemenis stand at the crossroads in light of fears of the double standards of major countries regarding the crises of Third World countries… and the donor community's departure toward other crises, which leads to the depletion of funds directed to financing the humanitarian response and fighting hunger in Yemen."