China urges Japan to develop 'normal ties' with neighbors due to past atrocities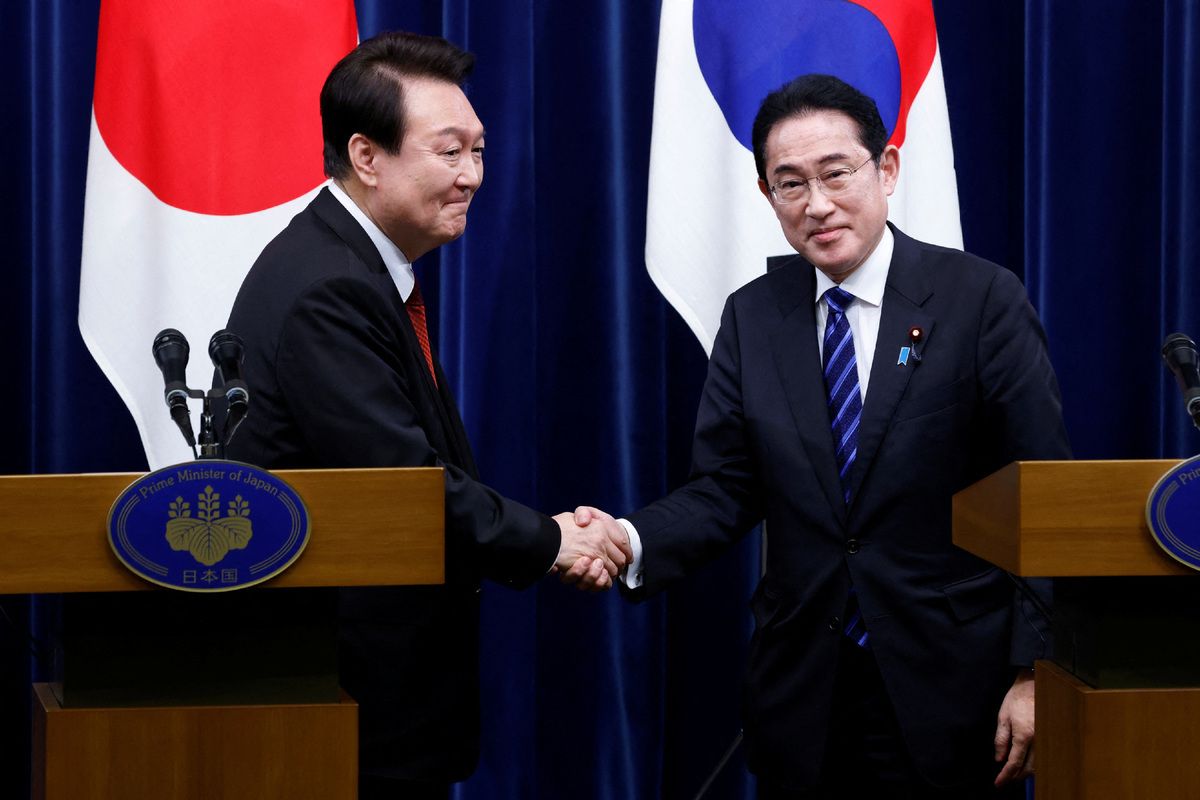 South Korea's President Yoon Suk Yeol and Japan's Prime Minister Fumio Kishida shake hands at a joint news conference at the prime minister's official residence in Tokyo, Japan March 16, 2023. [Photo/Agencies]
In the first such summit in 12 years, the Republic of Korea's President Yoon Suk-yeol succeeded in persuading Japan to lift its chip material curbs on Thursday, while meeting with Japanese Prime Minister Fumio Kishida amid lingering skepticism and opposition back home.
The two-day visit, which came after Seoul announced a proposal last week to settle a wartime labor dispute with Japan using money mainly from ROK companies instead of from Japan, was largely regarded as an olive branch offered by Yoon to Tokyo.
However, the result of the visit remains to be seen. Japan's Kyodo News said Japan is still watching "whether Seoul will implement the solution in a steady manner", citing unidentified sources who said.
The wait-and-see mentality was widespread in Tokyo as Kishida told Yoon that Japan "would like to exchange opinions on strengthening communication between governments in a wide range of fields".
In response, Yoon said: "It has a special meaning in announcing to the people of both countries that the relationship between the ROK and Japan, which has been in a difficult situation due to various pending issues, will make a new start."
In 2018, the ROK's top court ordered two Japanese companies — Mitsubishi Heavy Industries and Nippon Steel — to compensate victims of forced labor during Japan's 1910-1945 colonial rule of the Korean Peninsula. The dispute over the compensation has pushed relations between Tokyo and Seoul to the lowest point in decades.
Under Yoon's proposal, a ROK government-backed foundation will pay compensation to plaintiffs who won lawsuits instead of Japanese companies that were sued.
Unpopular plan
Consequently, the plan was welcomed in Tokyo, but several key victims in the ROK have already rejected the proposal, and polls showed that it is generally unpopular.
A Gallup Korea survey showed that 59 percent of ROK respondents oppose the plan because of the absence of an apology and lack of compensation from Japan, while some 64 percent do not consider Yoon's compensation adequate.
On Thursday, protesters in Seoul wore masks of Yoon and Kishida while taking part in a rally near the presidential office to voice their objection to the summit.
Commenting on the summit, China's Foreign Ministry spokesman Wang Wenbin said in Beijing that Japan should develop "normal relations" with Asian neighbors due to Tokyo's past atrocities and that China opposes certain countries attempting to form exclusive circles.
"As a close neighbor of both Japan and the ROK, China has noticed the recent interactions and changes in relations between the two countries," Wang said during a regular news briefing on Thursday, noting the sufferings that Japanese militarism and its colonial rule have once brought to Asian countries. He added that China has always urged Japan to reflect on its history of aggression and properly handle historical issues with an honest and responsible attitude.
"Japan should only develop normal relations with Asian neighbors based on this premise," he said.
China, Japan and the ROK are each other's important trading partners, and it serves the interests of three countries and the whole region to keep regional and global industry and supply chains stable and unfettered, Wang said.
"We oppose certain countries' attempt to form exclusive blocs and hope Japan-ROK relations could move forward in a way conducive to regional peace, stability and prosperity," he added.
Zhan Debin, an international relations professor at Shanghai University of International Business and Economics, said the military cooperation between Tokyo and Seoul would lead to increased mistrust between regional countries or would incite an arms race.
The meeting reaffirms Seoul's dependence on the US for diplomatic security and its lack of autonomy in many aspects, Zhan added.