Liu Peng showcases his certificate for the 35th Bosphorus Cross-Continental Swimming Race. (Photo/Xi'an News Network
Liu Peng from Xi'an is the head of the swimming pool department of Chang'an Cultural Center Gymnasium and he just participated in the 35th Bosphorus Cross-Continental Swimming Race, held by the National Olympic Committee of Turkey. Upon this race, he became the first athlete from Shaanxi to cross the Bosphorus Strait.
The Bosphorus Strait runs through the heart of Istanbul, serving as the boundary between Asia and Europe, and the race magically connects the two continents via the swimming sport. Therefore, the race is both a unique adventure and a challenging endeavor.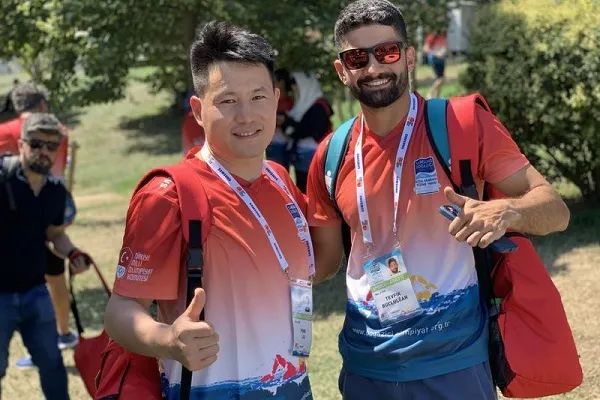 Liu Peng and an overseas participant pose for a group photo. (Photo/Xi'an News Network)
On Aug 20, over 2,600 athletes from more than 70 countries participated in the challenge, including 19 from China. During the race, they swam across the 6.5-kilometer track across the Bosphorus Strait. The race started on the Asian side of the city and finished on the European side.
Last June, Liu Peng challenged crossing the Qiongzhou Strait in China. For more than 20 kilometers, Liu Peng swam from 5 a.m. to 2:30 p.m., lasting more than 9 hours. After finishing the race, Liu Peng became the third athlete in Shaanxi to successfully challenge the Qiongzhou Strait with the shortest time.
By successfully challenging the Qiongzhou Strait, Liu Peng became more confident in the open-water swimming challenges. Once he heard about the Bosphorus Transcontinental Swimming Race from a friend, Liu Peng participated without hesitation.
This international competition comes with tough conditions, requiring a physical examination report, the ability to swim long distances, a lifesaving certificate, and a guarantor. Fortunately, Liu Peng met these conditions.
Although not as long as the Qiongzhou Strait, the Bosphorus Strait features low temperatures and rapid currents. "While swimming in the middle, I felt like spinning in a washing machine and it was difficult to control the direction."Liu Peng excitedly holds the Chinese flag on a boat after completing the challenge. (Photo/Xi'an News Network)
With no navigation boat to indicate the proper direction, the participants had to rely on their own judgment. When Liu was about 500 meters from the finish line, he swam in the wrong direction, crossing the endpoint from the other side. Once he realized his error, he swam against the current again and finally completed the challenge in 1 hour, 5 minutes, and 18 seconds.
"Tougher races endow the challenges with more meanings. That's the beauty of open-water challenges." Liu Peng said that he will continue to challenge the tough straits moving forward.
He has announced that he will swim the Bosphorus Strait again in five years, that time with his son. "By then, my son will be 14 years old and eligible to participate. I will swim the Bosphorus Strait with my son, traveling from Asia to Europe once again!"